Police arrested Marcel Vigneron, runner up of Top Chef Season 2, in Laguna Beach this past weekend on suspicion of a DUI. He was released on a $2,500 bail.
First off, let me just say with as much impartiality I can, that Marcel has brought innovative cooking methods to the forefront of the culinary world. I applaud his efforts and success.
Okay, more importantly, even with the fact that I know reality TV shows edit to make certain people look worse (or better), I still couldn't stand this guy. He RAPPED during one of the episodes! RAPPED. I tried to find a video of it, but no such luck. It included the phrase: "The haters wanna kick me out just like salt with peppa, but I'm like, yeah whateva." Or something along those lines. It was probably even worse than I recall.
Here's his mug shot, for anyone that missed seeing his Wolverine like mane.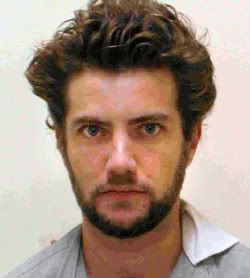 Besides Marcel's insistent use of foam in every dish, what I despised about him was his "victim but still a badass" persona. I'm never happy when anyone gets a DUI, and certainly driving drunk doesn't stand to make him any more endearing to me.
I'll stick to Stephanie Izard as my favorite Top Chef.