The start of the fourth season of Top Chef inspired a tradition that has continued long past the finale. My friend Steve and I cooked a new dish before each show and then ate it while yelling obscenities at the screen about who should win. Stephanie surprised us! We thought Richard would take it all. As proud Chicagoans though, we supported Steph's win 100%!
Plus in the traditional upper-echelon blogging style, into which I am trying to indoctrinate myself, I must mention that Stephanie Izard asked my good friend Dave to be her Sous Executive Chef. He tells me that the her restaurant is slated to open next spring in Chicago.
Though the show ended a few months ago, we still cook weekly. One of my favorite parts? I do a lot of the cooking, and Steve does most of the cleaning. I like that.* We've had some hits and misses but he eats anything and I like trying new dishes so we are a great combo.
*
If you want to know how I feel about cleaning a kitchen see this column I wrote in college.
In a final effort to rid my apartment of anything I don't need before the move, I am trying to use all my food products. Last night's mission: the rice noodles that had been sitting in the cabinet for 2 months. I had planned at some point on making pad thai, but my work orders from
Thai Aroma
every week and I've gotten just a little more than sick of the ketchup based dish. Yes, you read that right, pad thai has a base of peanut sauce and usually ketchup.
We decided on
garlic-ginger tofu stir-fry
from the
Go Veg blog
.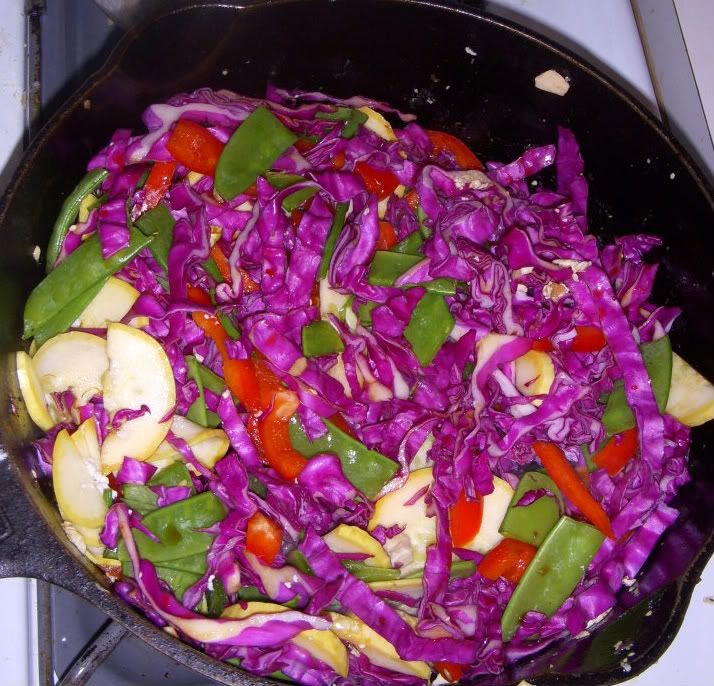 A quick trip to the Lincoln Park Market included dodging moldy snow-peas (we were using them instead of carrots) and picking a substitution for bok choy (purple cabbage). Obviously, Lincoln Park Market hasn't wowed me with their produce selection. Then we started cooking.
Delicious. This post is less about the dish though and more about this tradition that I will sad to leave behind. Yes, partly because I love that Steve cleans after I cook, but he also has an attribute essential for a good cooking friend - a willingness to try anything. He has never once whined about tofu, plead for a frozen dinner, or requested delivery.
So thanks Steve, for the all the times you went back for second helpings even though you didn't think the butternut squash was cooked enough.
Don't think that Steve has been a kitchen-only friend though. Thank you also for the time you left me at Hangge-Uppe, buying my soul (I traded it for free drinks from him; his roommate drew up the contract on a napkin at Harry Carry's before a Cubs game), and generally just being my best friend.
In case you ladies are interested in dating this wonder of a man, feel free to contact me, I'll pass on his info. Here's the picture I would pick for his dating profile on Chemistry.com: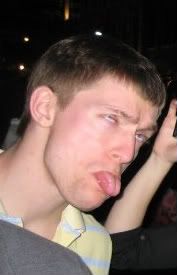 Feel free to thank me now Steve!